Water Bills Go Up Nearly 5% From April.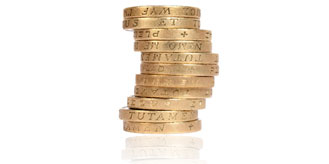 Average household water bill set to rise by 4.6% to £356 from this month.
In line with Ofwat's decision on how much water and sewerage companies can charge customers between 2010 and 2015, household water bills will increase by the rate of inflation from the 1st of April.
This will mean that on average a household's water and sewerage bill across England and Wales will increase to £356 per year (or by about £16 per month). This also means that bill rises across England and Wales should remain broadly stable up till 2015 when Ofwat will once again review its decision on water cost rises.
Regina Finn (Ofwat CEO) has said, "No one wants to see bills increasing, particular in tough economic times. When we set limits on prices, we listened to customers and challenged companies hard. That's why average bills are set to remain broadly in line with inflation up until 2015, while companies are investing more than ever before, £22 billion. That's more than £935 for every property in England and Wales."
This investment of £22 billion seeks to;
Improve 140 water treatment works and 550 sewage treatment works to maintain and improve the environment and drinking water quality

Address sewer flooding problems for more than 6,300 properties.

Maintain or improve more than 3,000 km of rivers to meet EU environmental standards
For further information please visit the Ofwat website at : http://www.ofwat.gov.uk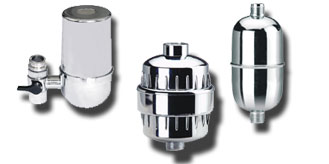 At PureShowers.co.uk we are always trying to improve the water quality of our customers. With that in mind - from this spring we will be bringing you three new products that we think you will really enjoy.
All our new products maintain the high standard of shower water purification that you would expect at PureShowers.co.uk. They also maintain our aesthetic charm and have beautiful chrome finishes which will suit any bathroom.
Tap and Bath Filter : Many of our customers have mentioned to us that they would like to have a filter on the taps in their baths and sinks. We have listened and now offer a beautiful chrome Tap and Bath filter.
2 New Shower Filter Designs: We now offer two new stylish shower filter designs. We know that some of our customers may like to install a more compact filter, so we now offer these two more compact versions of our shower filters.
These new products all maintain our highest standards of water purification and continue to use KDF as the main filter medium technology.

Ways We Can Save Money On Water Bills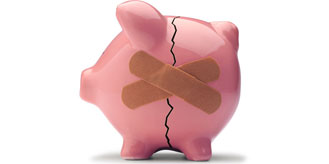 Due to the increase in water bills set for this month, and the current economic climate we find ourselves in, we, at PureShowers.co.uk, have decided to do some research on ways our customers can save some precious money on their water bills.
Meters
Households have had the opportunity to have a water meter installed free of charge for (over removed) the past 10 years. About 30% of households in the UK have moved over to metered water bills. Having a water meter installed in your home may, in many cases, save you money on your bill. This is especially true if you live alone or if you have a small family, or if you know your household just does not use a lot of water. This way, instead of paying the average water usage in your area, you can pay for exactly what you use.
The Consumer Council for Water's website (www.ccwater.org.uk) includes a handy water meter calculator to help customers work out if they can save money by having a water meter fitted.
Things Around The House
By fitting water-saving devices around your home, you can start making a large contribution to saving on metered water bills whilst helping the environment. Our Paragon Hand Held Shower Filter comes with a pre-installed water-saving device . Fixing dripping taps, installing more water-efficient appliances, toilets or even collecting rainwater for your garden are all useful ways to be more water-efficient and save money.
Read Your Bill Carefully
By carefully reading through the water bill, you may find other ways to save. For example, if you have a 'soakaway' which drains rainwater into the ground rather than into the public sewerage system, you can apply to your sewerage company to have surface water drainage charges removed. This could typically save around £30 each year.
Special Assistance
There is a variety of special schemes to help people with special needs or people with three or more dependent children. If you are struggling to pay your bills, contact your water company to see what help you might be entitled to.

Spring is all about renewal and rejuvenation. Looking out our windows we can see flowers bloom & trees begining to bud their small perfect leaves. As such, we should take a leaf from from Mother Nature and begin to renew ourselves this season.
Get Out & About: Assuredly winter did not motivate any of us or give us much of a chance to get outdoors and enjoy nature. Having been cooped up inside for much of the dreary days of winter, now is the time for us to go outside and enjoy the better weather. Go for a walk in the park or have stroll along your street, notice the rebirth of life all around and enjoy.
Allergies Can Be A Nuisance : Sometimes the beauty of Spring can be hampered by the onset of allergies. If you suffer from Spring time allergies, here are some natural remedies that you can try:
Herbs: Some herbs have been proven to lessen the body's response to allergens; these include Nettle & Butterbur. Try them in a herbal tea form for positive results.
Honey: It might be a little late for this remedy as the allergy season is nearly upon us, but try having some raw honey throughout the year sourced from your local area. This helps build natural immunity against the pollen around your area.
Skin Tips: Being huddled up inside with unnatural indoor heating in your home and office, coupled with being bombarded with strong cold winds on your face whilst walking outside throughout the winter has not been kind on your skin. So it is time to exfoliate. Exfoliation is a natural way to clear away dead skin cells and allow new ones to grow. It enables us to gently wash away impurities and encourage skin renewal. Here is a natural recipe which will invigorate and regenerate your skin:
Dead Skin Exfoliation for Sensitive Skin
2tbsp ground almonds
2 tsp honey
4 tbsp buttermilk or plain yoghurt
2 drops of rose oil